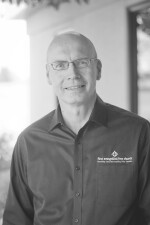 I have been attracted back again and again to John 17:19 re­cently. There are a couple simple and yet profound state­ments there that are designed to completely transform our self-understanding, and fill us with a sense of the incredible depth of the opportunity that is laid before us as followers of Jesus. The text begins with a statement about Jesus Himself; it is a statement at once made by Jesus and is at the same time about Jesus. Jesus reflects on His own experience this way,
For their sakes I sanctify Myself (John 17:19 NAU)
For their sakes—that is, for the sake of His disciples; for the sake of those following Jesus, Jesus does something. What is that? Well, it is just this, "He sanctifies Himself." And again if we ask "how so," both the immediate context in John and the broader context for the New Testament make His meaning plain. First in the nearer context in John 17:17 we find Jesus praying for the sanctification of His followers this way,
Sanctify them in the truth; Your word is truth. (John 17:17 NAU)
That is, Jesus prays that His followers will be set apart for service to God—by having God apply God's own word to them, for in conforming people to His word God has automatically set them apart to live in the sphere of the truth, rather than to wander in the sphere of deception—where the bulk of the world is understood to continually wander and dwell. And so when we read that Jesus sanctifies Himself, the im­mediate context in John 17 would lead us to expect that what this means is that He directs His life ac­cording to the revealed will and way of God, according to God's revealed path for Him. Jesus lives by means of the same sphere of revealed truth that we are to live by; Jesus sanctifies Himself by means of the same divinely revealed truths that we are to use to this same end. The only difference is that unlike us, He accomplishes this perfectly.
As I mentioned, that this is Jesus' understanding of things is made plain by the broader scope of the teaching of the New Testament as well. In the account of Jesus temptation in the wilderness this is pre­cisely how we find Jesus setting Himself apart or sanctifying Himself to the will of His Father—by subjec­tion to the word of God. When the Devil is found tempting Jesus in Luke 4:5-8 we read of the temptation and Jesus response to it in these words,
And he led Him up and showed Him alt the kingdoms of the world in a moment of time. And the devil said to Him, "I will give You alt this domain and its glory; for it has been handed over to me, and I give it to whomever I wish. Therefore if You worship before me, it shall alt be Yours." Jesus answered him, "It is written, 'YOU SHALL WORSHIP THE LORD YOUR GOD AND SERVE HIM ONLY.'" (Luke 4:5-8 NAU)
That is, when presented with a temptation Jesus responds that He cannot accept the Devil's offer due to His previous commitment to Deuteronomy 6:16—by His previous commitment to set His life apart unto God by setting His life apart to live within the sphere of the revealed will of God—that is how Jesus lived, and that is how He means us to live as well.
That is how Jesus sanctified Himself, set Himself apart to walk within the parameters of the revealed will and way of God. Now notice what He goes on to pray with regard to us,
For their sakes I sanctify Myself, that they themselves also may be sanctified in truth. (John 17:19 NAU)
That is, Jesus lived by the Word of God and died in fidelity to the Word of God that He might in so doing purchase the gift of indwelling Holy Spirit for us—the Spirit whose task is to "guide you into all the truth (John 16:13)."
Jesus sanctifies Himself so that through the work of the Spirit purchased by means of Jesus sanctified work—we ourselves might be having been "sanctified in truth"—we ourselves might be drawn to live in the sphere of truth. However, we come to live in the sphere of truth by coming to live "by means of the particular truths of the New Testament." This is our great opportunity—to be utterly set apart unto service to God by being utterly set apart to living out the path of truth that God has laid before us in the pages of the Bible—in the pages of the New Testament in particular. This is Jesus' prayer for us; this is Jesus' design for us.
We are to know God along this path. We are to make God known along this path. We are to become disciples along this path. We are to live as a family of disciples along this path. We are to serve as disciples in our community along this path. And we are to send others out into the world to teach people anywhere and everywhere about this path.
This is what sermons and Bible studies and our own personal Bible reading are all to prayerfully aimed at—this sanctification into the sphere of the truth of God. Join us in walking this Jesus-blazed path.