Mark & Chris Allen with CMI
Posted by on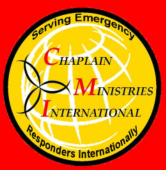 As we write this update we are in Iquitos, Peru, ministering with our CMI Chaplain Jairo Torres to the Iquitos firefighters. It's been an extremely busy time here with activities happening in Iquitos itself as well as in a village down the Amazon River. We are blessed by the addition of two women that came with us from our home church. Sue Humble and Jenny Steward have been a great help and wonderful missionaries for Christ. Please keep praying for us as we attempt to reach as many Peruvians as possible with the gospel of Christ.
Chaplin Training
The week of June 12th we were privileged to train 9 new fire chaplains for the Iquitos fire stations. Taking the training were 6 men and 3 women. Chaplain Jairo Torres is overseeing the CMI/Peru organization and has assigned each chaplain to one of four Iquitos fire stations. Pastor Gibran— San Juan station, Carlos & chaplain Jairo— Puchana station, Pastor Julio— Belen station, Jamison and wife— new Delfines station.
New Delfines Fire Station
We met with firefighters in the village of Delfines outside of the city of Iquitos. They are reopening a long defunct fire station for the village. Regional Commander Edgar Cardenas has been a long-time supporter of Chaplain Ministries involvement within the fire department. We have discussed plans with him regarding a chaplain for Delfines and possible community ministry involvement. There is a possibility of a CMI/multi-church mission team performing some construction ministry at the new station in July of 2019.
Firefighter Recognition Banquet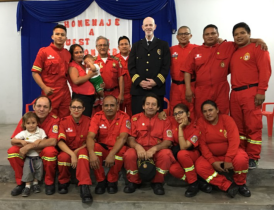 On June 17th a special dinner honoring the firefighters was held the Baptist Institute in Iquitos. Fire department officials were in attendance as well as 40 firefighters. Chaplain Antoni Vilca, the southern Peru CMI/Peru representative, gave the keynote address to the group. Mark provided a message of greeting and encouragement. CMI provided a small gift of appreciation to each member of the fire department. Each firefighter was given a CMI logo lapel pins. They immediately placed the pin on their uniforms.
Firefighter Wives' Discussion
Chris had the privilege of addressing a small group of fire-fighter wives. Her talk centered around "Being Content being the wife of an Emergency Responder". Below is Chris' synopsis of her talk.
"Being the wife of an emergency responder can be a challenge! Mark worked 30 years as a paramedic in the Twin Cities of Minnesota. When Mark told me years ago that I could minister to the wives or mothers of emergency responders, I said what do I know? Well, the answer was, "you lived that lifestyle for over 30 years". Yep, I know the challenges of long days not seeing or knowing if Mark was all right. Helping the children understand why dad can't be at their special activities at school or church because he is working, or can't come to a ballgame, or holiday. It can be a lonely life and can be filled with disappointment. We discussed issues of anger, obsessive behavior brought on by taking care of the needs of others in tragic circumstances, how to look for signs of Post-Traumatic Stress Injury, and more importantly how to understand these reactions.
We were able to introduce them to some of the chaplain wives. This is so they can go to them to talk if issues arise in the family. Emergency responder families often feel they cannot talk to anyone without it becoming a gossip situation at the local station. We have found this to be common in many countries.
Barrio Florido
We were involved in village ministry down the Amazon River. During this time we evangelized in pairs to individual homes and businesses, inviting the adults to come to the new church plant to learn about the importance of a church family. That afternoon 8 adults and several children were in attendance as we all shared our experiences of being a part of a church family and what it means to each of us. We returned to Barrio Florido the next day to help with the children's ministry event. We had about 65 young children who came to sing songs, learn about God's creation, and do a creation craft.