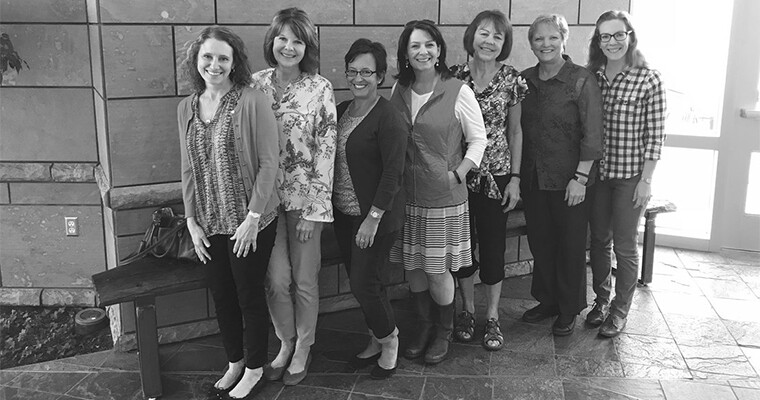 Fall Updates
It has been a busy fall in Women's Ministries and the church in general. We have three studies that are in full swing; two on Thursday mornings and one bi-weekly on Tuesday evenings. This means that there are approximately 85 women who gather here weekly/bi-weekly to study God's Word and share life together. Many of the women are from our church but some are not – we love having the opportunity to impact the community at large. This past weekend 90+ women gathered for the Women's Fall Conference. We enjoyed a challenging time of teaching under the guidance of Courtney Doctor, worship, and fellowship and of course delicious homemade food prepared by Diane Rens. The retreat team met for months prior preparing and praying for our time together. God is faithful and good it was a sweet Holy Spirit-filled time!
News
Women's Ministries has a new logo and mission statement.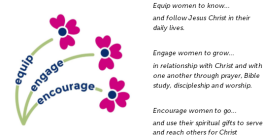 Equip women to know...

And follow Jesus Christ in their daily lives.
Engage women to grow...
In relationship with Christ and with one another through prayer, Bible study, discipleship and worship.
Encourage women to go...
And use their spiritual gifts to serve and reach others for Christ.
The logo will serve as an identifier for Women's Ministries and the Mission Statement will serve as a guide for decision making and programing for the ministry.
November 30 Women's Christmas Gathering Night (Ticketed Event)
You won't want to miss this evening to put you in the proper spirit for Christmas!
We will be gathering at 7 p.m. for dessert, live music and a special speaker! Tickets will be required and will be $5.00. Unofficially, we are calling the event "Sequins or Sweaters" to encourage festive attire. If Christmas sweaters aren't for you and a little bling stresses you out... come anyways! Bring snow hats or mittens to benefit Compassion Childcare. Tickets will be available in the office after November 5 and in the foyer on the two Sundays prior (November 12 and November 19). Mark your calendars now!